Antilooppi's 2021 Sustainability Report paves the way for a carbon-neutral real estate portfolio
The newly published sustainability report highlights the priorities of Antilooppi's strategy in terms of carbon neutrality, wellbeing and responding to ongoing changes in working life.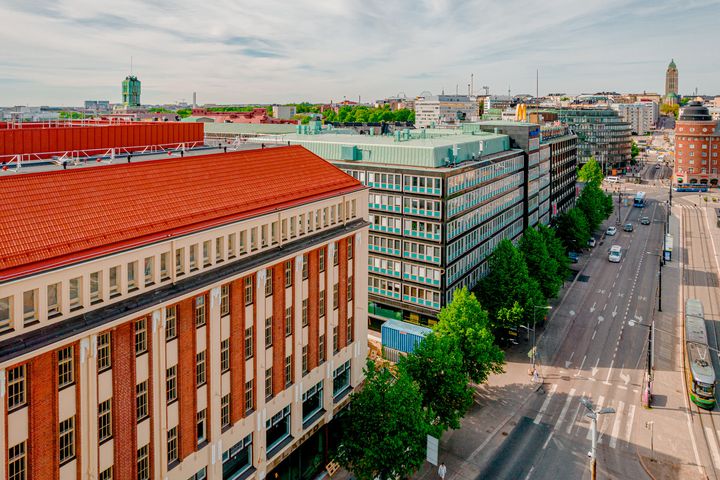 Finnish real estate investment company Antilooppi, which focuses on office premises, has published its second annual sustainability report. Responsibility is one of Antilooppi's core values, and sustainability priorities are closely integrated into both the company's own operations and the flexible, innovative solutions of its premises.
Antilooppi is systematically progressing towards its goal of a carbon-neutral property portfolio. The company is committed to the UN's Sustainable Development Goals and carbon-neutral energy consumption in line with the global Net Zero Carbon Buildings commitment by 2030. Last year, Antilooppi was among the first players in the industry to sign a commitment to include also carbon neutrality in construction. Antilooppi has also exceeded the targets of the Finnish voluntary Energy Efficiency Agreement for property sector four years ahead of schedule. The digital remote monitoring of properties has generated significant annual energy savings of 1680 MWh, while the waste recycling rate has already been increased to 66% compared to the national recycling target of 55% by 2025.
"We are developing our existing property portfolio and the neighbourhoods around these properties in a sustainable way by listening to our customers. Our systematic and strategic responsibility work has achieved excellent concrete results. This work will continue by addressing issues such as the environmental certification of properties, the development of a carbon-neutral roadmap and increase in renewable energy. We have already reduced our carbon footprint each year, increased the share of wind power to 50 percent of electricity and begun building solar power plants. We are also investing in electric car charging points," says Hannamari Koivula, Head of Sustainability and Property Management at Antilooppi.
Responsibility responds to changes in working life
Antilooppi owns, develops and manages work environments responsibly and on a long-term basis. At the heart of the company is the desire to create innovative workplace solutions that improve the wellbeing of people and the environment and that are flexible to the increasingly unpredictable needs of customers.
"The way we think about responsibility can be seen in our flexible office concept POOL, which offers flexible working and meeting spaces to meet the demands posed by changes in working life. POOL promises a perfect fit, suitable premises for its customers at all times, so the premises can be rented freely in the right location for the right period of time. By offering the most appropriate premises for each specific need, we help people and companies succeed," says Tuomas Sahi, CEO of Antilooppi.
The newest POOL opened recently in the historic and fully renovated Siltasaari 10, which has been granted the LEED Platinum environmental certificate with the highest score of any construction project in Finland. The number of POOL locations will be further expanded with the addition of at least two new locations during 2022.
"Siltasaari 10 is an excellent example of our versatile responsibility work. The renovation extended the lifespan of the building, and the facilities are designed to serve a changing, modern working life. The services of the property enrich the surrounding environment and rejuvenate the neighbourhood. We want our premises to support the wellbeing and productive work of our customers while taking into account climate goals. We are also currently acquiring WELL certification that focus on the health, wellbeing and comfort of our customers," Koivula continues.
"We have taken significant steps in our responsibility work. Responsibility is our strategic focus and an integral part of the work of everyone at Antilooppi. We will continue to invest in our property portfolio to develop sustainability, quality and services, as well as to enhance the customer experience. At the heart of our business is the desire to provide comfortable work environments that promote wellbeing holistically. While the demand for comfortable workspaces has not gone anywhere, predicting needs has become more challenging. That is why we offer business premises flexibly – and responsibly," Sahi concludes.
Contacts
Hannamari Koivula
Head of Sustainability and Property Management
tel. +358 40 581 9921

Tuomas Sahi
Chief Executive Officer
tel. +358 40 090 7877

About Antilooppi
Antilooppi is a sustainable real estate owner that focuses on office properties in the Helsinki Metropolitan Area. We own, develop and manage work environments sustainably and over the long term to enable the success of our customers and wellbeing in the workplace. We create innovative and flexible space solutions for changing working life, based on customers' needs and operations. We understand that success is created by happy and healthy employees, and are aware of how spaces, the surrounding environment and its services can have an impact on people well-being. We focus on maintaining and developing already existing properties sustainably, extending the life cycle of buildings. Properties always have a close connection to their immediate surroundings – it is especially important for us to develop not just the property, but also its services and the surrounding areas.