Building work on Varma's Kalasatama Campus gets under way
Building work on the Varma-owned Kalasatama Campus in Helsinki has started with the laying of the foundation stone. The 8,000-m² lot will accommodate an office complex of approximately 35,000 m², including the head office of K Group, a Finnish retailer chain.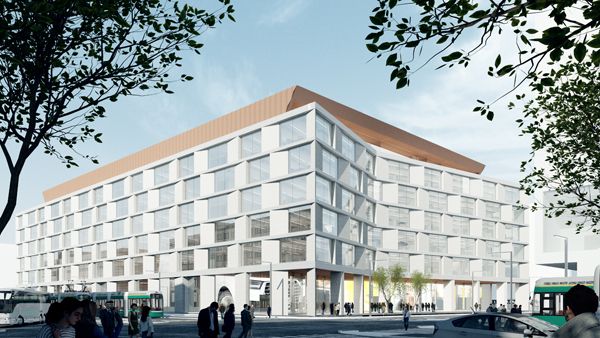 "The Kalasatama area is on its way to becoming a strong business, commercial and residential hub close to the city centre. Building a block the size of a football field on a completely empty lot has opened up opportunities in terms of space use and planning that you rarely get so close to the city centre," says Ilkka Tomperi, investment director in charge of Varma's real estate operations.
The K Group's modern office complex will take up most the space, around 25,000 m². Some 1,700 K Group employees will be working in the premises by spring 2019.
At the same time as K Group's office campus is being built, approximately 10,000 m² of flexibly modifiable offices will be built. The foundation work for these was started at the same time as the K-Kampus. The premises will be completed in 2019, and leasing of the premises has already begun. They will include commercial and business premises and restaurants. The growing popularity of electric vehicles is being taken into account in the parking facility, with 50 charging points for electric cars.
"The immediate proximity of a metro station, and the nearby REDI shopping centre will serve those working on the premises as well as its visitors. The BREEAM environmental rating of Very Good will be sought for the new office building, which is in line with Varma's goal of reducing the carbon footprint of its real estate investments," Tomperi adds.
"The architecture of the Kalasatama campus represents modern Nordic design, and it is one of Varma's largest real estate development projects. The starting point for planning the spaces has been space efficiency and flexibility, which will lay the foundation for productive work in companies of different sizes," says Aarne Markkula, Varma's property development manager.
Further information:
Ilkka Tomperi, Investment Director, Real Estate, Varma, tel. +358 50 379 1903, ilkka.tomperi@varma.fi
Aarne Markkula, Property Development Manager, Varma, tel. +358 40 522 6927, aarne.markkula@varma.fi
Leena Rantasalo, Communications Manager, Varma, tel. +358 50 300 7980, leena.rantasalo@varma.fi
Varma Mutual Pension Insurance Company is the most solvent earnings-related pension company and largest private investor in Finland. The company is responsible for the statutory earnings-related pension cover of some 873,000 people in the private sector. Premiums written totalled EUR 4.7 billion in 2016 and pension payments stood at EUR 5.3 billion. Varma's investment portfolio amounted to EUR 44.4 billion at the end of March 2017.
Tilaa tiedotteet sähköpostiisi
Haluatko tietää asioista jo ennen kuin ne uutisoidaan? Kun tilaat tiedotteemme, saat ne sähköpostiisi yhtä aikaa suomalaisen median kanssa. Tilauksen voit halutessasi perua milloin tahansa.
Lue lisää julkaisijalta Varma
Uutishuoneessa voit lukea tiedotteitamme ja muuta julkaisemaamme materiaalia. Löydät sieltä niin yhteyshenkilöidemme tiedot kuin vapaasti julkaistavissa olevia kuvia ja videoita. Uutishuoneessa voit nähdä myös sosiaalisen median sisältöjä. Kaikki STT Infossa julkaistu materiaali on vapaasti median käytettävissä.
Tutustu uutishuoneeseemme