Daniel Buren exhibition postponed until 2022 – EMMA to feature sculptor Aaron Heino's solo exhibition in the coming summer
Due to the COVID-19 situation, EMMA has made changes to the exhibition schedule. The Daniel Buren exhibition planned for the coming summer will open in spring 2022. EMMA will feature Aaron Heino's solo exhibition in the summer, instead. Some current exhibitions have also been continued for an extended period.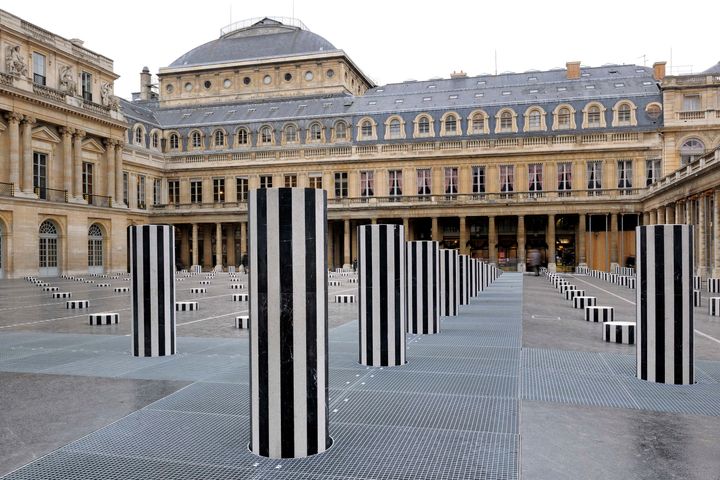 The exhibition of the world-renowned French artist Daniel Buren is postponed until March 2022. Buren will create an ambitious work for EMMA that builds on the architecture of the museum, along with a series of events in the city. In June 2021, EMMA will feature a solo exhibition by Aaron Heino, a sculptor and recipient of the Fine Arts Academy of Finland Prize. The exhibition Off Topic includes dynamic sculptures, which draw inspiration from the tradition of pop art, among other things. Simultaneously, the museum will showcase The White Exhibition by Hesselholdt & Mejlvang. The exhibition by the Danish artists explores the different meanings of the colour white and ideas associated with it.
Due to the closure of the museum, current exhibitions have been extended. The 2020 exhibition by Elmgreen & Dragset, which has transformed the exhibition space into a surrealist car park, continues until 2 May 2021. The Eeva-Leena Eklund exhibition is extended until 22 August 2021. Eklund's exhibition is followed by Tracing Boundaries by Chiharu Shiota, continuing EMMA and Saastamoinen Foundation's annual autumn exhibition series. The exhibition opening in October 2021 has been extended to span approximately a year.
EMMA's events are carried out virtually, whenever possible. For example, the Children's Museum Festival, arranged annually by operators in the WeeGee Exhibition Centre, will take place as a virtual event during 6–7 March 2021. Up-to-date information on events can be accessed on EMMA's website.
Changes in the exhibition schedule: 
Elmgreen & Dragset 2020 continued until 2 May 2021 
Eeva-Leena Eklund:) continued until 22 August 2021 
Aaron Heino Off Topic 2 June – 12 December 2021 
Hesselholdt & Mejlvang The White Exhibition 2 June – 29 August 2021 
Chiharu Shiota 27 October 2021– 27 November 2022 
Daniel Buren 2 March – 17 July 2022 
About EMMA – Espoo Museum of Modern Art
EMMA – Espoon modernin taiteen museon kokoelma- ja näyttelytoiminta profiloituu kotimaiseen ja kansainväliseen modernismiin, nykytaiteeseen sekä designiin. EMMA sijaitsee Espoon Tapiolassa, professori Aarno Ruusuvuoren suunnittelemassa betoniarkkitehtuuria edustavassa Näyttelykeskus WeeGeessä. Näyttelytilat ovat pinta-alaltaan Suomen suurimmat, ja pelkistetty moderni arkkitehtuuri tukee EMMAn, Saastamoisen säätiön ja Tapio Wirkkala Rut Bryk Säätiön kokoelmien sekä vaihtuvien näyttelyiden kokemuksellista esittämistä. Tervetuloa!
@emmamuseum