DNA again a world-leader in mobile-data use per subscription
A recent report* by Tefficient states that DNA's data transmission volumes per subscription have continued to grow and achieved a new record on a global scale. In terms of global overall mobile data traffic, DNA's customers are once again using the most mobile data.
DNA's average data volume per mobile subscriber in the first half of 2018 was around 19.8 gigabytes/month. The results from the full year of 2017, when DNA's mobile data usage per subscription was still 15.9 gigabytes per month, reflect the explosive growth in mobile data.
The proliferation in mobile viewing of moving images is the key factor in the growth of mobile-network data traffic: most comprises video traffic over the 4G network.
"In our sales selection, monthly subscription fees include unlimited data. In addition, networks and terminals keep improving, which means that customers are enjoying more video content. Videos and TV shows are now an everyday feature of the world of mobile devices," says Jarkko Laari, Director, Radio Networks, DNA.
This is directly reflected in the use of services, since YouTube and Netflix are still the most popular mobile network services.
According to a survey published by DNA in May 2018**), TV content is watched on several devices in parallel. A total of 1,018 people responded to the survey held in March this year, which indicates that around one third of respondents view TV on a smartphone.
Data traffic in DNA's mobile communications network grew by 33 per cent from the year before, and such growth is expected to continue. For example, an average of 21 gigabytes of mobile data per subscription was used last month. The forthcoming 5G networks and related services will accelerate the use of mobile data and extend its use to new locations.
Further information:
* Source: Tefficient is an international analysis, benchmarking and consulting company in the telecommunications industry. You can download their published report here: https://tefficient.com/more-data-always-for-more-it-happens/
**) The DNA survey (In Finnish) Liikkuva kuva valtaa suomalaisten mediaympäristöä – katselu jakautuu useille eri laitteille: https://corporate.dna.fi/lehdistotiedotteet?type=stt2&id=68188888
Further information for the media:
Jarkko Laari, Director, Radio Networks, DNA Ltd., tel. +358 (0)44 044 4949, jarkko.laari@dna.fi
DNA Corporate Communications, tel. +358 (0)44 044 8000, communications@dna.fi
About DNA Oyj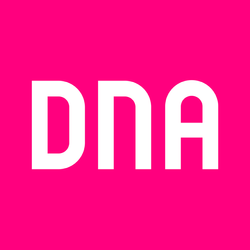 DNA Oyj
PL 10
01044 DNA
http://www.dna.fi
DNA Plc is a Finnish telecommunications group providing high-quality voice, data and TV services for communication, entertainment and working. DNA is Finland's largest cable operator and the leading pay TV provider in both cable and terrestrial networks. For DNA, the key area for growth in corporate business is the new way of working, independent of time and place, facilitated by smart terminal devices, diverse communications services and rapid connections. In 2017, DNA recorded net sales of EUR 886 million and an operating profit of EUR 124 million. DNA has more than 3.9 million subscriptions in its fixed and mobile communications networks. The Group also includes DNA Store, Finland's largest retail chain selling mobile phones. DNA shares are listed on Nasdaq Helsinki Ltd. For further information, visit www.dna.fi or follow us on Twitter @DNA_fi and Facebook.