Helsinki Biennial 2023 brings together 29 artists and collectives to exhibit across Vallisaari Island and the Finnish capital 
Helsinki Biennial 2023 is delighted to share the 29 international artists and collectives participating in its second edition, New Directions May Emerge, curated by Joasia Krysa and produced by HAM Helsinki Art Museum. Opening to the public on 12 June, an annual Helsinki Day celebration in in the Finnish capital, the biennial comprises around 50% new commissions and site-specific works which engage with some of the pressing issues of our time, encompassing environmental damage, political conflict and the impact of technology. For New Directions May Emerge, Krysa has joined forces with five curatorial collaborators: Critical Environmental Data, Museum of Impossible Forms, TBA21-Academy, ViCCA @ Aalto Arts, and an A.I. Entity.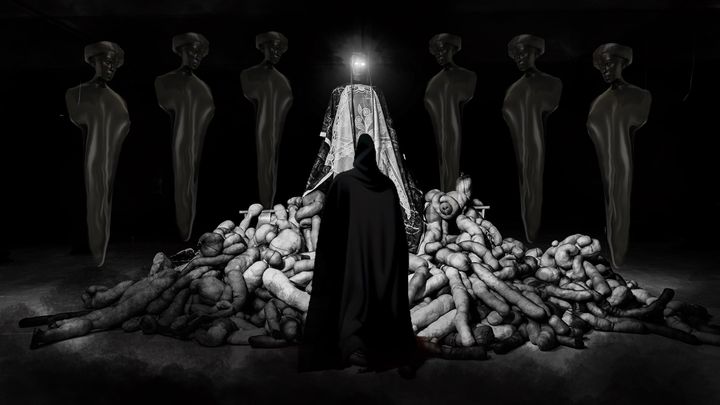 This year, the biennial's central location of Vallisaari Island in the Helsinki archipelago will have a particular emphasis on outdoor artworks which subtly operate in dialogue with the surrounding environment and its unique ecosystem.In addition, a 20-minute ferry ride away, artworks and the wider biennial programme sprawl across mainland venues including HAM Helsinki Art Museum, Helsinki Central Library Oodi, Stoa and Caisa Cultural Centers, other public spaces in the city, and online, accessible via helsinkibiennial.fi.
The Helsinki Biennial 2023 participants include:
Matti Aikio (Sápmi) *
Ahmed Al-Nawas & Minna Henriksson (FI) *
Dineo Seshee Bopape (ZA)
Danielle Brathwaite-Shirley (UK/DE)
Golden Snail Opera (Anna Tsing, Yen-ling Tsai, Isabelle Carbonell, & Joelle Chevrier) (TW/FR/US)
Alma Heikkilä (FI) *
INTERPRT (NO) *
Keiken (UK) *
Sonya Lindfors (CM/FI) *
Lotta Petronella sekä Sami Tallberg & Lau Nau (FI) *
Asunción Molinos Gordo (ES)
Tuula Närhinen (FI)
PHOSfate (SH/FI)
Diana Policarpo (PR)
Sepideh Rahaa (IR/FI)
Bita Razavi (FI/IR/EE)
RED FOREST (UA/UK/US/MX/DE/FI/ZA) *
Remedies (Sasha Huber & Petri Saarikko) (CH/FI) *
Tabita Rezaire (FR)
Emilija Škarnulytė (LT) *
Yehwan Song (KR) *
Suzanne Treister (UK)
Adrián Villar Rojas (AR) *
Zheng Mahler (HK)

*An asterisk denotes a new commission.
Helsinki Biennial 2023 12 June – 17 September 2023
Press preview: 8 June | Vernissage: 9 – 10 June
For New Directions May Emerge, new commissions explore alternative ways of living in, and understanding, the world, whilst envisioning various potential futures.
On Vallisaari Island, Adrián Villar Rojas will present a site-specific sculptural work, From the Series The End of Imagination (2023), which expands from his ongoing series Brick Farm. Inspired by the Argentinian hornero bird – which makes its nests from mud, straw and rubble, adapting them to human-built surroundings – Villar Rojas' nest-shaped sculptures will be scattered across the island, attached to trees, rocks, and buildings. For this iteration, the sculptures have been designed using an amalgamation of software collectively described as the 'Time Engine'. The work marks a shift in Rojas' practice, from organic ephemeral sculptures inspired by the hornero, to these more artificial, otherworldly new forms, or nests for unknown lifeforms. Exposed to the natural and built environment of Vallisaari, the works change and evolve over time, much like the island itself, embracing ideas of destruction and decay as an inevitable part of the life cycle.
On the Southern-most part of the island, Danielle Brathwaite-Shirley invites visitors to take part in a role-playing performance event and installation which explores a speculative Black trans mythology of Vallisaari Island. With live events taking place in June, August and September 2023, visitors are invited to explore Vallisaari and meet various characters in the form of physical sculptures along the way. An online counterpart will allow participants to listen to the personal stories of these characters, bringing their fictional histories to life.
Meanwhile, inside one of the island's former gunpowder magazines, Emilija Škarnulytė will present her new film installation Hypoxia. Drawing inspiration from the Baltic Sea, the work meditates on extinction, future archaeology, and deep time, examining the ocean basin from an "alien archaeological perspective" to reconstruct mythologies and beliefs of the past and present. Central subjects include the Baltic Sea Anomaly, a spacecraft that reportedly lies at the bottom of the Baltic Sea; 'hypoxia' or 'dead zone', the man-made phenomenon of oxygen depletion in the ocean; and the Lithuanian myth of Jūratė, whose underwater palace was destroyed due to a dalliance with a human.
Nearby, Sámi artist Matti Aikio presents a new multichannel video and sound installation. With a background in reindeer herding, Aikio's practice focuses on the historical treatment of the Sámi population and the appropriation of indigenous identity; all themes related to Sámi self-determination, which have been under recent political debate in Finland. For the biennial, Aikio raises questions related to the utilization of natural resources, preservation of nature, generation of fossil-free energy, and human relations with other forms of life.
Artist collective Keiken create speculative worlds through filmmaking, gaming, installation, Extended Reality (XR), blockchain and performance. Titled Ángel Yōkai Atā, their new work for Helsinki Biennial encompasses both physical and digital elements: a sound piece will create an ambient backdrop for the island's Lime Tree Avenue; a sculptural house on the water's edge for "angels and spirits", inspired by Japanese spirit houses, Mexican Ofrendas, Spanish shrines, and northern European pagan traditions; and an online interactive experience which will allow viewers to virtually walk inside the spirit house and into a new world.
New Directions May Emerge will have a significant digital presence, featuring six online artworks. Working in conjunction with the Digital Visual Studies, a Max Planck Society project hosted at the University of Zurich, Yehwan Song has developed a website that will enable viewers to engage with an innovative A.I Entity and navigate a 3D map of Helsinki Art Museum's art collection. Responding to data from artworks and geolocations, the algorithm curates new and often unexpected artwork groupings from the collection, creating a blended curatorial vision through the input of artificial intelligence, Biennial visitors, the city itself and HAM's artworks.
From Spring 2023, Arja Miller joins as the new director for Helsinki Biennial and HAM Helsinki Art Museum. Moving to the role from her previous position as the chief curator at EMMA Espoo Museum of Modern Art in Finland, Miller comments:
'I am proud that Helsinki Biennial, a relatively young addition to the art world, is leading the way in environmentally responsible and socially sustainable values. The artists and artworks participating in this second edition are directly responding to the world around us, employing a future-orientated vision which is at the core of the biennial itself. We hope audiences will be prompted to explore how art and artists can give us new perspectives on the global challenges we are facing.'
Helsinki Biennial 2023 comprises exhibitions, a discursive and performative public programme, film screenings, publications, and an online programme. The programme supports the biennial's three main conceptual threads: contamination, regeneration and agency, and includes projects created by the curatorial collaborators Critical Environmental Data, Museum of Impossible Forms, and ViCCA@Aalto Arts, as well as participating artists.
Notes to Editors
Helsinki Biennial
Helsinki Biennial is an international contemporary art event which takes place on Vallisaari Island and extends to other locations on the mainland. Informed by Vallisaari – a former military island fusing wild nature and urban heritage – sustainable and responsible values lie at the core of Helsinki Biennial. Each edition includes major site-specific commissions by leading international artists. Helsinki Biennial embodies the city's ambitious cultural vision, committed to developing Helsinki's art scene both on a grassroots and institutional level. A major initiative of the City of Helsinki, the Biennial is produced by HAM Helsinki Art Museum. Its inaugural edition in 2021, 'The Same Sea', was curated by HAM's head curators Pirkko Siitari and Taru Tappola. www.helsinkibiennial.fi
Arja Miller, director of Helsinki Biennial and Helsinki Art Museum (HAM)
Arja Miller joined Helsinki Art Museum (HAM) and Helsinki Biennial as director in March 2023. Prior to this, she was Chief Curator of EMMA, Espoo Museum of Modern Art (2017-2023) and Chief Curator of Collections at Kiasma, Museum of Contemporary Art (2008-2017).
Her curatorial work includes numerous solo exhibitions for prominent artists such as Elmgreen & Dragset, Chiharu Shiota, Daniel Buren, Tatsuo Miyajima and Alicja Kwade. Miller has also organized thematic group exhibitions, including "In Search of the Present" at EMMA, which explored the relationship between art, technology, and nature. She has co-curated major international group shows at Kiasma, such as ARS11 and ARS17, which focused on contemporary African art and artists' responses to the digital revolution, respectively. An accomplished writer, her areas of focus include museums as discursive spaces, installation art, new media art, and the intersections of art, sound, and music. She holds a Master of Arts degree from the University of Helsinki (1997) and a qualification in Business management in the museum context from the Management Institute of Finland (2012-2014).
Joasia Krysa, curator of Helsinki Biennial 2023
Joasia Krysa is a curator and academic working at the intersection of contemporary art and technology. She is Professor of Exhibition Research and Head of Art and Design at Liverpool John Moores University. Between 2012–2015 she was Artistic Director of Kunsthal Aarhus, Denmark. She was part of the curatorial team for Documenta 13 (2012), and co-curator of the 9th Liverpool Biennial (2016). Past projects have been presented at, amongst others, The Whitney Museum of American Art, ZKM Center for Art and Media, and Tate Modern. Her current research focuses on AI and curating.
Curatorial Collaborators
Critical Environmental Data, a research group at Aarhus University, exploring nature as data and the many possible futures that might emerge.
Museum of Impossible Forms (MIF) a cultural centre located in Kontula, East Helsinki, and the coming together of communities of art and cultural workers working to build anticolonial, antipatriarchal, and non-fascist practices and futures.
TBA21-Academy, a contemporary art organization and cultural ecosystem fostering a deeper relationship to the Ocean through the lens of art to inspire care and action.
ViCCA @ Aalto ARTS, Visual Cultures, Curating and Contemporary Art (ViCCA), a transdisciplinary major at Aalto University's School of Arts, Design and Architecture.
A.I. Entity, created as a collaboration between HAM Helsinki Art Museum Collections, artist Yehwan Song and the Digital Visual Studies, a Max Planck Society project hosted at the University of Zurich.
Creative Collaborations
The Helsinki Biennial 2023 visual presentation is a collaboration between graphic design studio The Rodina and spatial consultants Diogo Passarinho Studio (Team: Diogo Passarinho and Gonçalo Reynolds).
Supporters
The main partners of Helsinki Biennial include Metsähallitus, S Group and Clear Channel.  It is also supported by Saastamoinen Foundation.
Helsinki Biennial 2023 co-commissioners include Copenhagen Contemporary, KANAL – Centre Pompidou, TBA21-Academy, and University of Zurich.
With thanks to Aalto University, Aarhus University, British Council, British Embassy Helsinki, Frame Contemporary Art Finland, Liverpool John Moores University, MO.CO.ESBA Montpellier Contemporain - Ecole Supérieure des Beaux-Arts, Uniarts Helsinki, and Uniarts Research Pavilion.
International PR
Pelham Communications
Alexia Menikou alexia@pelhamcommunications.com and Yaz Ozkan yaz@pelhamcommunications.com, +44 20 8969 3959
Local PR
Helsinki Biennial
Reetta Haarajoki, reetta.haarajoki@hamhelsinki.fi
+358 40 168 3669
Images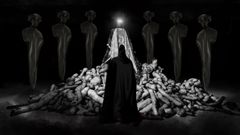 About HAM Helsingin taidemuseo