Household deposits continued brisk growth, albeit slowing down from early 2021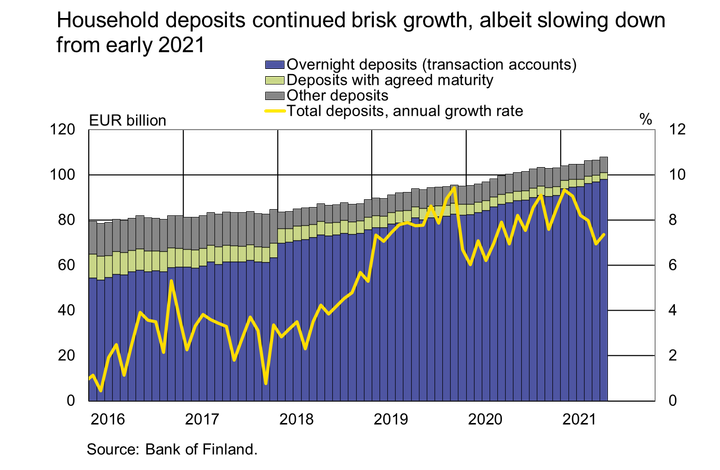 Finnish households' deposit stock[1] stood at EUR 107.8 billion at the end of June 2021. In April-June 2021, the deposit stock grew by EUR 3 billion, EUR 550 million less than in the same period a year earlier. In June 2021, the deposit stock increased by EUR 1.2 billion. The annual rate of growth of the deposit stock has slowed down from the beginning of 2021, while nevertheless remaining at a brisk level (7.4%) in June. Over 90% of the assets on households' deposit accounts were on current accounts[2]. The growth of assets on current accounts has been the main driver of the growth of the deposit stock for an extended period. The stock of deposits with an agreed maturity has contracted ever since 2011, while other deposits have increased at a moderate pace. Households held a total of EUR 2.9 billion of deposits with an agreed maturity and EUR 6.8 billion of other deposits. In June, the average interest rate on current accounts was near zero (0.02%) as opposed to 0.66% on deposits with an agreed maturity.
Despite their brisk growth, in proportion to all financial assets[3], deposits have declined a little over the past few quarters. Lately household financial assets have also been boosted by the steep appreciation of equity prices. Indeed, Finnish households' holdings in listed shares and mutual funds reached a new record in June 2021. In June, the value of households' listed shares and investment fund units stood at EUR 52.7 billion and EUR 31.7 billion, respectively. The most (40%) of households' fund investments were in equity funds. Households' equity holdings appreciated by EUR 1.2 billion, while households also made significant new equity investments[4] (EUR 820 million) in June 2021. At the same time, households invested EUR 300 million in net terms in investment funds, while the value of their fund holdings appreciated by EUR 550 million.
According to the consumer confidence indicator, consumers found June 2021 as a very favourable time for saving and assessed their own economic situation in June to be excellent.[5]
For further information, please contact:
Markus Aaltonen, tel. +358 9 183 2395, e-mail: markus.aaltonen@bof.fi,
Antti Alakiuttu, tel. +358 9 183 2495, e-mail: antti.alakiuttu(at)bof.fi.
Related statistical data and graphs are also available on the Bank of Finland website: https://www.suomenpankki.fi/en/Statistics/saving-and-investing.
The next news release on saving and investing will be published at 10 am on 9 November 2021.
[1] Deposit stock at credit institutions operating in Finland
[2] Transaction accounts refer to overnight deposits payable on demand, which include, in addition to current accounts, other household accounts without withdrawal limitations but which are only used for cash withdrawals or through another account.
[3] According to Statistics Finland's financial accounts, household financial assets totalled EUR 366 billion at the end of March 2021.
[4] New investments in net terms.
[5] Source: Statistics Finland, consumer confidence.
About Suomen Pankki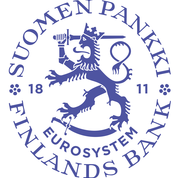 Suomen Pankki
Snellmaninaukio, PL 160
00101 HELSINKI
09 1831
http://www.bof.fi
The Bank of Finland is the national monetary authority and central bank of Finland. At the same time, it is also a part of the Eurosystem, which is responsible for monetary policy and other central bank tasks in the euro area and administers use of the world's second largest currency – the euro.