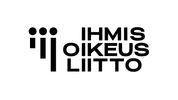 Human rights belong at the heart of sports - The Finnish League for Human Rights, Finland's top athletes, and sports organizations across Finland demand the entire sporting world to wake up
Publishable 22.11.2021 at 9.00am. Sexual harassment, infringement upon freedom of speech, homophobic jokes, belittling of female sports players and leagues, and disabled people's right to play sports are just a few examples of the true stories brought up by top Finnish athletes. There's a lot of work in the Finnish sports community for human rights to be actualized.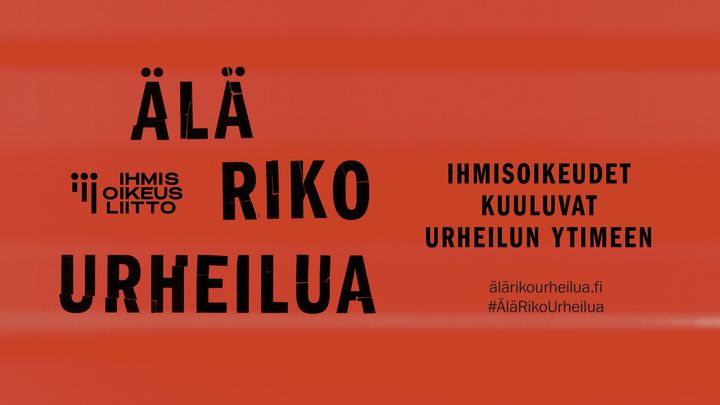 "In sports, matters dealing with human rights are often associated with organizing of international games. We want to turn our heads towards Finland because we have so much to do over here", says The Finnish League for Human Rights' Secretary-General Kaari Mattila.
The Finnish League for Human Rights emphasizes that human rights are an all-encompassing matter in sports. Children's rights, discrimination of sexual and gender minorities, racism, and disabled people's equal right for sports hobbies are just a handful of the many issues that must be dealt with more efficiently than what is currently done.
"We are glad that the sports sector has on a wide range joined the efforts to make human rights more visible. This is a unique campaign even on an international scale", Mattila says.
The Don't break the game campaign sees The Finnish League for Human Rights, known sporting figures, and nearly eighty non-governmental organizations tackle subjects that have never been addressed widely in the Finnish sports. Included in the campaign are basketball player Shawn Huff,figure skater Kiira Korpi, wheelchair racer Amanda Kotaja, basketball player Awak Kuier, ice-hockey player Aapeli Räsänen, triple jumper Senni Salminen, and football players Tim Sparv and Linda Sällström.
"I've encountered ignorance and homophobic jokes. Responsible bodies in sport should intervene in all kinds of discrimination more often. Raising human rights issues in sports should not be left down to the athletes alone", emphasises triple jumper Senni Salminen.
Ensuring human rights is the duty of responsible bodies in sport. Many sports federations participating in the campaign have in past years taken action to increase equality and non-discrimination. When different factors in sports demand better recognition of human rights issues in sports, they can optimize their actions to promote and ensure that these human rights needs are met.
"We want to encourage and awaken all sporting actors, fans, and the general public to an even better sporting world where everyone is safe to play sports and be themselves. Sports has a unique opportunity to become genuinely a messenger for human rights", encourages campaign coordinator Tommy Lindgren from The Finnish League for Human Rights.
"Don't break the game" message is supported by an all-star group with a wide reach
The campaign by the Finnish League for Human Rights is supported by the Finnish Olympic Committee, the Finnish Centre for Integrity in Sports FINCIS, the Finnish Coaches Association, and more than forty sports federations and thirty other non-governmental organizations. Also, the City of Helsinki and the Sports Museum are participating in the campaign.
The Don't break the game campaign is a part of the Finnish League for Human Rights' wider work dealing with human rights issues in sports. The Finnish League for Human Rights began with the support from the Ministry of Education and Culture and the "Shaping Up Human Rights in Sports" project ("Ihmisoikeudet haltuun urheilussa") in 2020. The project has educated sporting federations, athletes, and other operators in the foundations of human rights.
The campaign has been conducted in collaboration with the communications agency Miltton.
The campaign website provides further information about human rights in sports, a list of all the participating organisations and interviews of the athlete faces:
älärikourheilua.fi
alarikourheilua.fi
The campaign website is also available in Swedish and English.
Hashtags:
#DontBreaktheGame #IhmisoikeudetUrheilussa
Quotes from the athlete faces of the campaign:
"The prevailing culture of secrecy in sport has created the perfect platform for sexual harassment. It's time to break down that platform." Aapeli Räsänen, ice hockey player
"I've encountered ignorance and homophobic jokes. Responsible bodies in sport should intervene in all kinds of discrimination more often." Senni Salminen, triple jumper
" It's great that the figure skating world is finally beginning to talk about children's rights. Without human rights, sport is neither sustainable nor valuable." Kiira Korpi, figure skater
"It's important for me to be able to say what I think and feel. Athletes should have freedom of expression." Awak Kuier, basketball player
"It can be difficult for people with disabilities to take up sport as a hobby. They may be told 'We can't take you,'. This is a matter of human rights." Amanda Kotaja, wheelchair racer
"There's still plenty to do to stamp out racism in football. I hope and demand that sports organizations take responsibility and lead sport in a better direction."Tim Sparv, footballer

"Minority representatives often highlight problems, which isn't easy. Those in positions of power in sport should have the will to change things." Shawn Huff, basketball player
"Women's sport is still disparaged, and the structures of sport are sometimes discriminatory. But change is happening. It's great that the Women's National Team is getting more and more media attention." Linda Sällström, footballer
Contacts
Reetta Helander, Head of Communications
The Finnish League for Human Rights
p. 044 7062392
reetta.helander@ihmisoikeusliitto.fi

Tommy Lindgren, Campaign Designer
The Finnish League for Human Rights
p. 044 7420409
tommy.lindgren@ihmisoikeusliitto.fi