Ilmarinen invests in office property in Manchester
Ilmarinen has expanded its real estate investments to the UK by acquiring an approximately 50 per cent holding in a new office property located at the heart of Manchester.
"Manchester's population is growing and its economic outlook is positive. The ongoing Brexit negotiations are not expected to have any significant impact on Manchester city centre's office market. In addition, the long and diversified lease profile of the building accompanied with a historically low valuation of the pound provides solid defensive attributes to the investment," says Portfolio Manager Mikko Antila,who is in charge of Ilmarinen's international real estate investments.
The office property by the name of No.1 Spinningfields is located in the western part of Manchester's city centre, home to many new office buildings and with good public transit connections. The just-completed 19-storey office building offers modern, adaptable and resource-efficient premises. The lettable area totals some 29,000 square metres and the occupancy rate is currently close to 95 per cent. The largest tenant is the auditing and consulting firm PwC.
The co-owner in the property is a global institutional investor with experience in the UK real estate market. Acting as the buyers' advisor in the acquisition, Schroder Real Estate, will also be responsible for the management of the property. Ilmarinen and Schroder Real Estate have previous co-operation in real estate investments in continental Europe.
The transaction supports Ilmarinen's investment strategy, which is to diversify its real estate portfolio internationally as part of profitable and secure investment operations. In addition to Finland, Ilmarinen has previous direct real estate investments in Germany, Belgium, the Netherlands and the United States. However, Finnish real estate investments will continue to make up the core of its real estate portfolio going forward.
Kuvat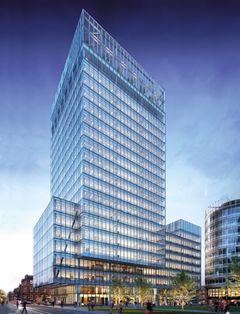 Tietoja julkaisijasta

Ilmarinen
Porkkalankatu 1
00018 ILMARINEN (HELSINKI)
010 195 000
http://www.ilmarinen.fi
Ilmarinen's task is to ensure that our customers receive the pension they earned from employment. Backed by approximately 590 experts in the field, we promote a better working life and thus help our customers succeed. In total, we are responsible for the pension cover of almost 900,000 people. Almost one third of Finnish companies are our customers and we have investment assets of more than EUR 38 billion to cover pension liabilities.
For more information, please visit: www.ilmarinen.fi
Tilaa tiedotteet sähköpostiisi
Haluatko tietää asioista ensimmäisten joukossa? Kun tilaat mediatiedotteemme, saat ne sähköpostiisi välittömästi julkaisuhetkellä. Tilauksen voit halutessasi perua milloin tahansa.
Lue lisää julkaisijalta Ilmarinen
Uutishuoneessa voit lukea tiedotteitamme ja muuta julkaisemaamme materiaalia. Löydät sieltä niin yhteyshenkilöidemme tiedot kuin vapaasti julkaistavissa olevia kuvia ja videoita. Uutishuoneessa voit nähdä myös sosiaalisen median sisältöjä. Kaikki STT Infossa julkaistu materiaali on vapaasti median käytettävissä.
Tutustu uutishuoneeseemme