Investment fund capital decreased materially in 2022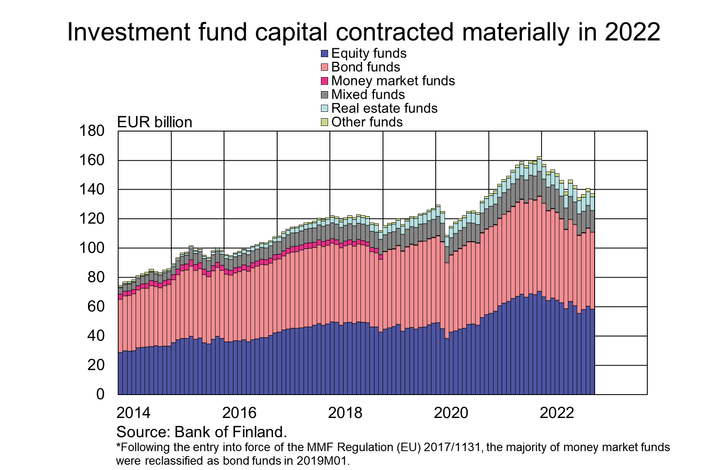 After record growth in 2021, the fund capital of Finnish investment funds[1] decreased materially in 2022. At the end of 2022, the fund capital stood at EUR 137.5 billion, over EUR 25 billion less than a year earlier. The reduction in the fund capital was mainly due to the depreciation of securities held by investment funds, but the funds also had a large volume of redemptions.
In 2022, the value of investment fund capital depreciated by EUR 20.2 billion[2], and redemptions from the funds amounted to EUR 5 billion. The capital of the largest types of funds – equity and bond funds – decreased by roughly the same amount in 2022 (over EUR 12 billion). The decrease was due to the rise of interest rates and depreciation of equity prices. At the end of December 2022, the fund capital of equity funds amounted to EUR 58.3 billion, compared to EUR 52.6 billion for bond funds. Equity and bond funds together account for 81% of investment funds' total fund capital. The next largest fund types are mixed funds and real estate funds.
In 2022, clearly the largest redemptions were made from bond funds. During the year, new subscriptions in bond funds amounted to EUR 18.5 billion and redemptions to EUR 24.1 billion. Hence, net redemptions from bond funds amounted to EUR 5.6 billion. Net redemptions from equity funds totalled EUR 1.1 billion. In 2022, the largest new investments[3] were made in real estate funds, exceeding redemptions by EUR 750 million. The largest redemptions (EUR 1.6 billion) from Finnish investment funds in 2022 were made by non-financial corporations, whereof Finnish companies accounted for 65%.
Majority of the funds' investments were targeted abroad
At the end of December 2022, out of Finnish investment funds' aggregate investments of EUR 141.9 billion, 32% was allocated to Finland and 68% abroad. The majority (39%) of domestic investments were inter-fund investments. 27% of the investments were made directly in Finnish non-financial corporations' equities.
The largest foreign investments were made in listed equities (44%) and bonds (33%). The largest (45%) foreign equity investments were allocated to US equities. The highest share (20%) of foreign bonds held by the investment funds were issued by Swedish residents. As a whole, the largest foreign investments were made in the United States (EUR 23.2 billion), Luxembourg (EUR 13.3 billion) and Sweden (EUR 11.6 billion).
Finnish households are the largest owner of investment funds
At the end of December 2022, Finnish households had direct holdings of EUR 30.0 billion in Finnish investment funds, which is 13 % less than a year earlier. A large amount of Finnish households' assets is also channelled to domestic investment funds through unit-linked policies with insurance corporations. In the Bank of Finland's investment fund statistics, these are shown as insurance institutions' investments.
For further information, please contact:
Markus Aaltonen, tel. +358 9 831 2395, email: markus.aaltonen(at)bof.fi,
Ville Tolkki, tel. +358 9 183 2420, email: ville.tolkki(at)bof.fi.
Related statistical data and graphs are also available on the Bank of Finland website: shttps://www.suomenpankki.fi/en/Statistics/saving-and-investing/.
The next news release on saving and investing will be published at 10 am on 11 May 2023.
[1] Including UCITS and non-UCITS investment funds registered in Finland.
[2] Redemptions in net terms.
[3] In net terms.
About Suomen Pankki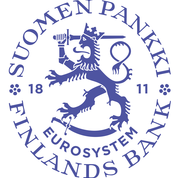 Suomen Pankki
Snellmaninaukio, PL 160
00101 HELSINKI
09 1831
http://www.bof.fi
The Bank of Finland is the national monetary authority and central bank of Finland. At the same time, it is also a part of the Eurosystem, which is responsible for monetary policy and other central bank tasks in the euro area and administers use of the world's second largest currency – the euro.