Jyrki Katainen appointed as President of Sitra
Commissioner Jyrki Katainen, MSc in Political Sciences, appointed as President of Sitra. He was appointed by the supervisory board of Sitra. The position is fixed-term for five years.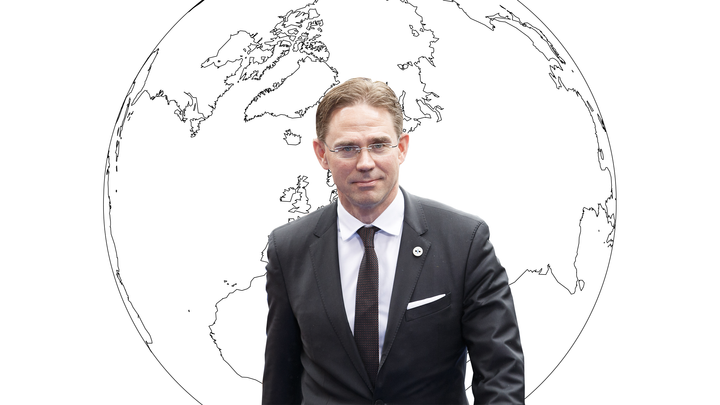 "The supervisory board reviewed the matter thoroughly and appointed European Commission Vice-President Jyrki Katainen following a vote," says Antti Lindtman, Chair of Sitra's supervisory board.
Sitra's supervisory board, comprising Members of the Finnish Parliament, interviewed the top candidates Jyrki Katainen and Professor Markku Wilenius earlier today. 
Jyrki Katainen (b. 1971) has been European Commission Vice-President for Jobs, Growth, Investment and Competitiveness since 2014. Katainen has previously worked as Prime Minister of Finland (2011–2014), Finance Minister (2007–2011) and Member of the Finnish Parliament (1999–2014), as well as Chair of the Parliament's Committee for the Future (2003–2007). 
"I would like to extend my gratitude to Sitra's Board of Directors and supervisory board for their trust in appointing me as President. Facilitating Finland's pioneer position amidst societal changes and finding solutions for sustainable well-being are dear to my heart. I have the Sitra spirit in me," Jyrki Katainen says. 
Katainen will continue in his position as European Commission Vice-President until the end of the current Commission term. 
"I will immediately submit a formal notification of being appointed as President of Sitra in accordance with the code of conduct for members of the European Commission, after which the Commission will make a decision concerning accepting the position with Sitra. Unfortunately, I am not able to comment on the matter publicly before the Commission's process is complete," Katainen explains. 
The second term of Sitra's sitting President Mikko Kosonen will expire at the end of 2019. The term of the new President commences on 1 January 2020.  
Sitra's previous Presidents are Esko Aho (2004–2008), Aatto Prihti (1997–2004), Matts Andersson (1996), Jorma Routti (1986–1996), C.E. Carlson (1974–1986), Kaarlo Larna (1972–1973) and Klaus Waris (1968–1972).
Basic information about Sitra 
Established in 1967

 

A public fund under the Parliament, no budget funding from the state

 

Market capitalisation of the endowment capital EUR 776 million (2018)

 

Annual budget EUR 37.5 million (2019)

 

Yield requirement in investing activities 4% (yield EUR 32 million in 2018)

 

Staff 179 (2018)

 

Operations are guided by the Act on Sitra, the Finnish Innovation Fund (717/1990)

 
Known for: initiator of capital investments, pioneer in the circular economy and data economy, organiser of economic policy leadership training and expert in foresight and megatrends.
Contacts
Further information:
Antti Lindtman, Chair of Sitra's Supervisory Board, +358 (0)40 577 6255
Martti Hetemäki, Chair of Sitra's Board of Directors (via Sitra's communications +358 (0)40 548 0794)


Information about Sitra:
Veera Heinonen, Director, Communications and Public Affairs, Sitra, +358 (0)50 372 5244

About Sitra

Sitra
Itämerenkatu 11-13, PL 160
00180 HELSINKI
0294 618 991
http://www.sitra.fi
Sitra is a future fund that collaborates with partners from different sectors to research, trial and implement bold new ideas that shape the future. Our aim is a Finland that succeeds as a pioneer in sustainable well-being.