Linnanmäki Amusement Park, in Helsinki, Finland, announces their biggest roller coaster project ever: Taiga is Getting Ready to Launch!
Something exciting has been brewing at Linnanmäki Amusement Park during the past winter. The amusement park has been posting teasers in the social media implying that "Taiga is in the air".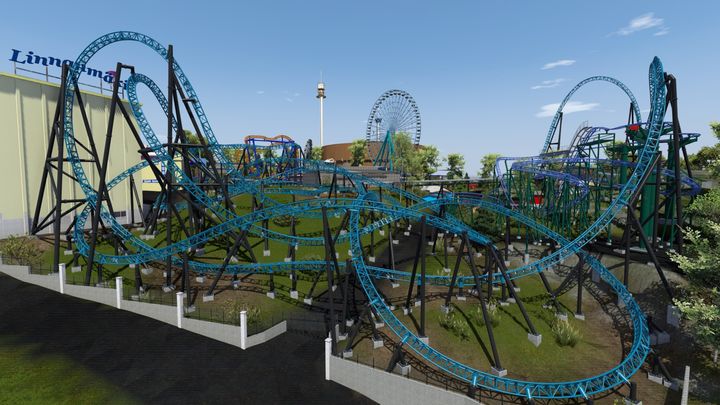 It is finally time to announce that a spectacular roller coaster is arriving at Linnanmäki in 2019!
"We are very excited to finally announce that Linnanmäki is making its greatest ride project ever in co-operation with ride manufacturer Intamin. This most unique high-profile launch coaster can be described as a coaster enthusiasts' dream", explains Pia Adlivankin, Managing Director of Linnanmäki with great excitement.
This new ride will have a top hat height at 52 meters, Finland's longest track length of 1104 meters and a furious maximum speed of 106 km per hour. In addition, this new coaster will have two launches and four inversions.
Intamin is a European coaster manufacturer with the largest number of launch coasters in operation all over the world.
"It was an easy choice to select Intamin as our ride provider, since they had the most creative layout suggestion for our challenging terrain. We are truly satisfied with our biggest ride acquisition ever" Anssi Tamminen, Technical Director of Linnanmäki comments on the project.
Linnanmäki expects this ride to be one of the most exciting rides in Europe.
"This coaster will impress everyone. The final layout design phase was a true collaborative effort with Linnanmäki, and we were able to come up with a roller coaster which will set new standards not only in Finland but in the whole Northern Europe and even beyond", Intamin's Executive Vice President Sascha Czibulka proudly explains.
This fierce new roller coaster, Taiga, will be launched during the 2019 season.
Subscribe to releases from Lasten Päivän Säätiö / Linnanmäki
Subscribe to all the latest releases from Lasten Päivän Säätiö / Linnanmäki by registering your e-mail address below. You can unsubscribe at any time.
Latest releases from Lasten Päivän Säätiö / Linnanmäki
In our pressroom you can read all our latest releases, find our press contacts, images, documents and other relevant information about us.
Visit our pressroom