New Bank of Finland strategy is centred on economic stability and sustainable growth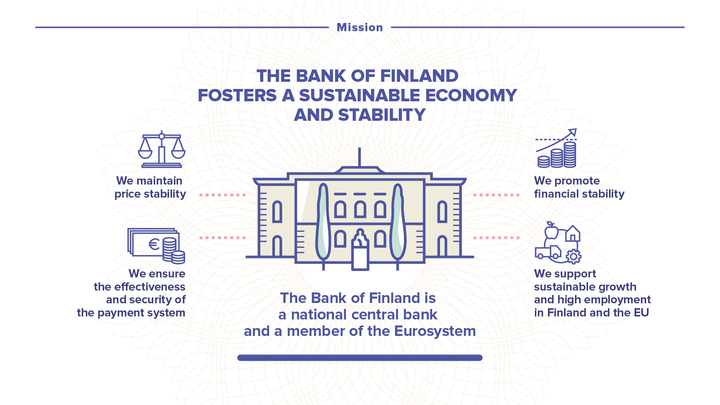 In the course of 2020, the Bank of Finland renewed its strategy. The Bank's operations are designed to build a sustainable economy and stability. The Bank's functions are based on the Act on the Bank of Finland and on its position as a national central bank and a member of the Eurosystem. Under the new strategy, the aim of the Bank of Finland is to maintain price and financial stability under all circumstances in order to secure the wellbeing of the public.
As a basis for the renewal of the Bank's strategy we drew up a number of scenarios that anticipated changes in our operating environment in the 2020s. The factors that emerged were the long-term economic impacts of the Covid-19 pandemic, the intense accumulation of debt and the rapid digitalisation of payments and financial services. From this we deduced the areas of focus in the Bank of Finland's activities in the immediate years ahead would be assessing and finding solutions to the effects of the Covid-19 crisis, renewal of the ECB's monetary policy strategy and participation in the Eurosystem's preparations for a digital central bank currency.
The ongoing pandemic has demonstrated the importance of ensuring economic stability in sudden crises. 'The Bank of Finland is dedicated to building a sustainable economy and stability. Keeping this in mind, we have renewed our strategy to correspond to the major structural trends of digitalisation, the economic impacts of an ageing population and climate change,' says Governor Olli Rehn. Maintaining price and financial stability under all circumstances requires the central bank to also provide efficient central banking services for the surrounding society, prepare for the unexpected, and engage actively in social discourse and continuous renewal.
The Bank of Finland also aims to increase public understanding of the economy. As part of this, the Bank published on 28 January its proposal for Finland's first national Financial Literacy Strategy.
In its operations, the Bank of Finland observes the principles of sustainable development and seeks to recognise the risks attendant on climate change and to improve the opportunities for sustainable finance. By investing responsibly, the Bank contributes to combating climate change. We have today published our principles for responsible investment, which bring together ESG integration, an analysis based on international norms and exclusion as well as thematic investments. (Link to website)
About Suomen Pankki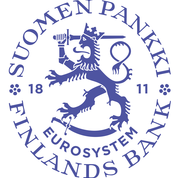 Suomen Pankki
Snellmaninaukio, PL 160
00101 HELSINKI
09 1831
http://www.bof.fi
The Bank of Finland is the national monetary authority and central bank of Finland. At the same time, it is also a part of the Eurosystem, which is responsible for monetary policy and other central bank tasks in the euro area and administers use of the world's second largest currency – the euro.