Paintings by Swiss artist Not Vital invite viewers to look slowly
From 19 October 2018 to 20 January 2019, one of the exhibition galleries at the Ateneum Art Museum will host an exhibition of works by the Swiss artist Not Vital (born 1948). The artist, whose career started in the 1960s, is best known for his sculptures and the architectonic installations he has created around the world. This exhibition presents him in a new light: as a painter. The exhibition features a series of 26 Vital's most recent paintings.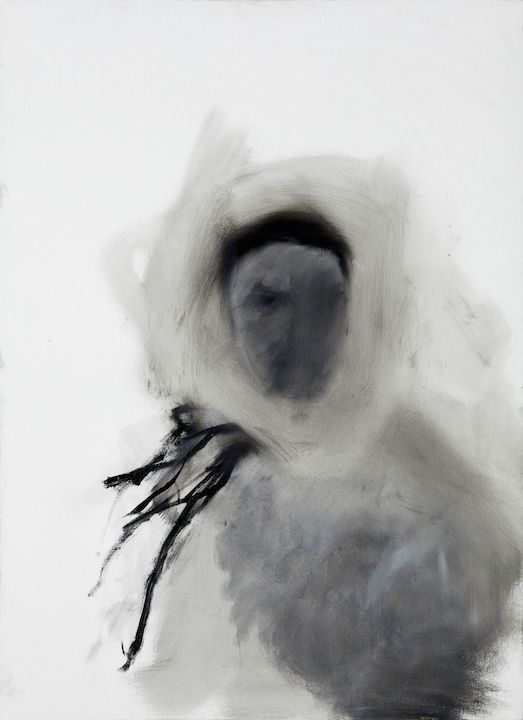 Vital began painting in 2009 in his studio in Beijing, where he lives for part of each year. Many of his paintings in the exhibition are self-portraits, in which he often slips into different roles ranging from a Chinese rice farmer to an Alzheimer patient or a singer. In Vital's portraits, we furthermore encounter his family members, friends and assistants, as well as familiar figures from the worlds of art and literature.
Vital's ascetic colour world is linked to the rugged, majestic landscapes of Switzerland's Engadin valley and the snowy, fog-shrouded mountains that surround it. The artist's home region is known as the Grisons or 'the Land of the Grey'.
"Painting is the best way for me to see, feel and smell the light," says Vital. His working process is meditative and introspective. In his portraits, he aims to connect with his models' inner worlds by clearing away the non-essential from the surface. Light, dimness and darkness – white, grey and black – activate our senses. Vital's portraits invite us to slow down while sharpening our gaze in a concentrated, unhurried way.
The exhibition has been curated by Susanna Pettersson, Director General of Nationalmuseum, Sweden. In her article in the exhibition catalogue, Pettersson makes this revealing insight: "Looking at his portraits is like making a commitment to climb a mountain or to begin a long journey without end."
A book published by PARVS in conjunction with the exhibition also sheds light on the underpinnings of Not Vital's work. The lavishly illustrated volume features text by the artist as well as an article by the exhibition's curator, Susanna Pettersson, entitled 'Seeing in the Dark'. The publication is available in English.
Opening hours
Tue, Fri 10am–6pm | Wed, Thu 10am–8pm | Sat, Sun 10am–5pm | Mon closed
Admission fees in 2018
Normal admission fee €15 | S-Etukortti loyalty card holders €14 | Concessions €13 | Under 18-year-olds free of charge
Admission fees in 2019
Normal admission fee €17 | S-Etukortti loyalty card holders €16 | Concessions €15 | Under 18-year-olds free of charge
Twitter: @AteneumMuseum | Facebook: AteneumArtMuseum | Instagram: ateneummuseum
Yhteyshenkilöt
Anna Kari, Communications Officer, tel. +358 40 717 8185, anna.kari at ateneum.fi

Press photos: press.ateneum.fi | username: ateneum | password: mediat

Tietoja julkaisijasta

Ateneumin taidemuseo / Konstmuseet Ateneum / Ateneum Art Museum
Kaivokatu 2
00100 HELSINKI
0294 500 401
http://www.ateneum.fi
Ateneum's main corporate partners are Helsingin Sanomat, HOK-Elanto and KPMG. 
Ateneum Art Museum is Finland's leading art museum, which houses Finnish art from the 19th century to the modern age. Ateneum is part of the Finnish National Gallery, together with the Museum of Contemporary Art Kiasma and Sinebrychoff Art Museum. www.kansallisgalleria.fi/en