Pole Position of Data Economy at Sight for Manufacturing Companies - The Intelligent Industry Ecosystem to Create the World's Smartest Industrial System
The Intelligent Industry Ecosystem of top Finnish companies intends to make Finland the global leader of intelligent industrial solutions. Cooperation is the foundation for solutions since no single company alone can deliver top results at the system level. Intelligent Industry aims to create the world's most advanced intelligent autonomous systems, amongst other top objectives, with new joint financing from the participating companies and Business Finland.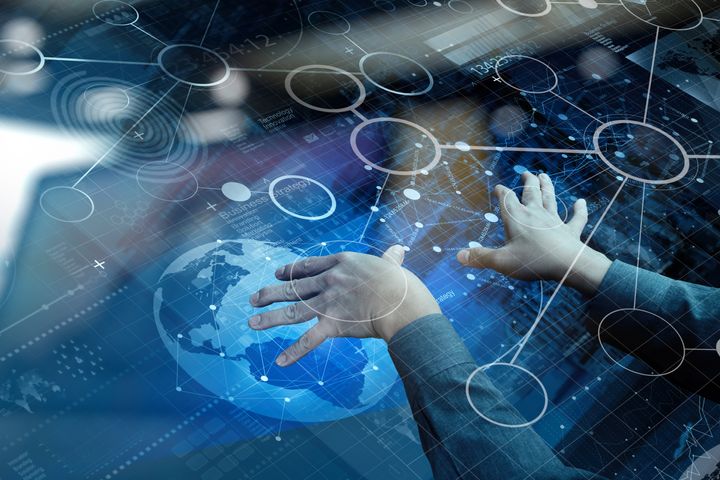 Press Release 7.1.2020
The Intelligent Industry Ecosystem heads ambitiously to the new decade. Already in its first two years of operation, the ecosystem has successfully advanced the digital transformation of top Finnish companies.
'Our ecosystem is a prime example of business-driven collaboration that delivers tangible results to the benefit of all involved. The entire industry will also benefit significantly from the cooperative approach we have built. We have a clear vision, strategy and road map for industrial digital transformation. We are very determined and on the move', stresses Juha Pankakoski, Chairman of the Ecosystem and Executive Vice President at Konecranes.
Intelligent Industry focuses on intelligent autonomous systems, data sharing and advanced analytics, business models for ecosystems and human-machine collaboration in the world of artificial intelligence. According to Pankakoski, data is the central common denominator of these priorities.
'We have launched the Industrial Data Excellence (DIMECC InDEx) Programme for data sharing. High profile visibility in domestic and European fora has been important, especially with regard to the topics of data sharing and utilization. Finland has a good starting point to take the leading role in this development and that is exactly what we are striving for.'
For the ecosystem leads, Antti Karjaluoto and Kari Muranen from DIMECC Ltd, the first two years have been an extensive endeavour.
'We have been extremely active. On an annual basis, we've participated in about fifty industry events with high-profile decision-makers, typically as a speaker or panelist, and organized more than 10 workshops offering the very latest expertise', lists Karjaluoto.
New members welcome, new projects on the way
In addition to its own activity, the ecosystem has been featured in a variety of top media. The needs of the industry have been responded to with a broad and open-minded offering.
'Within the ecosystem, we've organized a highly acclaimed Machine Learning Academy for the industry, as well as built a student project to seek solutions to the challenges of employer image in the industry. The vitality of industry must be increased on every front. That is why new members are most welcome to join our active work now stepping to the new decade', wishes Muranen on behalf of the whole ecosystem.
Intelligent Industry will continue to implement its vision and roadmap to further data economy of the industry. The InDEx Programme builds an industrial data platform and community for Finland.
'We also intend to launch new projects to advance the ecosystem towards our ambitious goals. Utilizing artificial intelligence in machine-human collaboration is one critically important dimension the importance of which cannot be overestimated. Likewise, we intend to increase our international co-operation and active influencing both in Finland and at the EU level', Karjaluoto describes good reasons for new members to join.
The participants of the second phase of the ecosystem include Konecranes, HT Laser, Elekmerk, Fastems, Nokia, Prima Power, Raute, Innofactor, Tieto and Melkki IT. In addition to the companies' own investments, the ecosystem is funded by Business Finland.
Further information:
Juha Pankakoski, Executive Vice President, Technologies, Konecranes, +358 40 723 6460, juha.pankakoski@konecranes.com
Antti Karjaluoto, Disruptive Renewal Officer, DIMECC Ltd, +358 40 772 5440, antti.karjaluoto@dimecc.com
Kari Muranen, Senior Ecosystem Lead, DIMECC Ltd, +358 40 772 5934, kari.muranen@dimecc.com
About DIMECC Oy

DIMECC Oy
Åkerlundinkatu 8
33100 Tampere
http://www.dimecc.com/
DIMECC Oy on innovaatioalusta, joka yhdistää parhaan osaamisen teollisuudesta ja tutkimuksesta. Yritysten arvioiden mukaan yksi DIMECCin ohjelmiin sijoitettu euro on tuottanut itsensä takaisin keskimäärin yli 20-kertaisesti. Se on ainutlaatuisen korkea luku maailmassa. Ylivertaisen tuottavuuden luo yli 400 organisaation ja 2000 ihmisen osaaminen, jotka DIMECC kokoaa yhteen Suomen hyväksi.
DIMECC Ltd is the leading breakthrough-oriented co-creation ecosystem that speeds up time to market. Our innovation platform makes leaders and winners meet. Our network consists of 2.000+ R&D&I professionals, 400+ organizations, 69 shareholders and 10+ co-creation facilitators.