Press conference on Tue 1 June at 10 am: Exhibitions by Aaron Heino and Hesselholdt & Mejlvang
Welcome to the press conference for exhibitions Off Topic by sculptor Aaron Heino and The White Exhibition by Danish collective Hesselholdt & Mejlvang.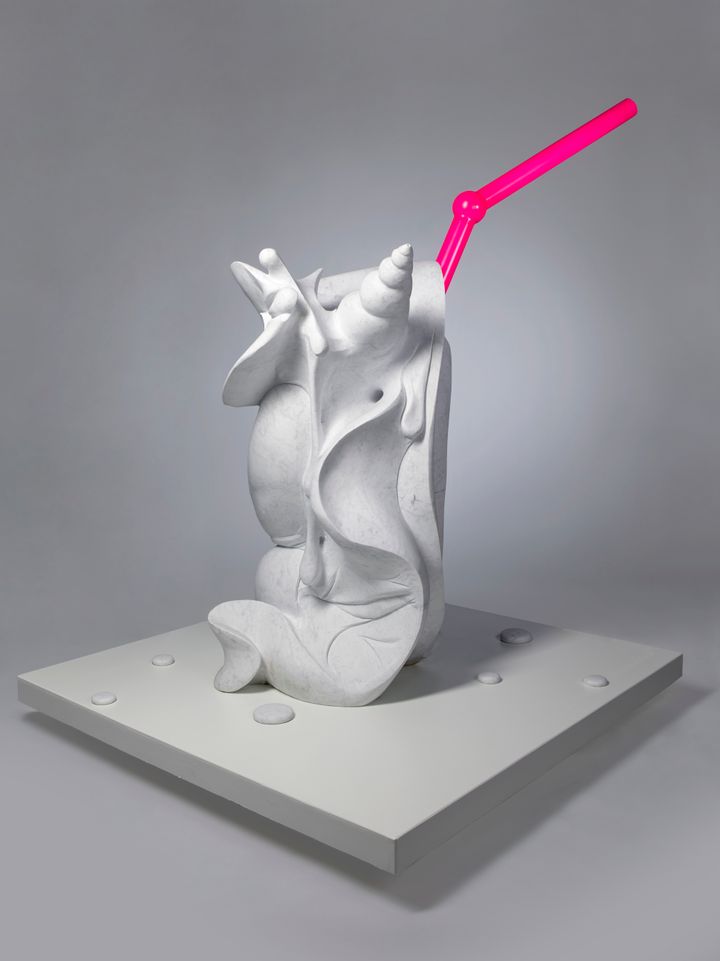 Exhibitions will be presented for the media on Zoom on Tuesday 1 June at 10 am. Artists Aaron Heino, Sofie Hesselholdt and Vibeke Mejlvang will be all present at the event. Languages are Finnish and English.
RSVP and interview requests by Thursday 27 May: iris.suomi@emmamuseum.fi tel. +358 44 7601930.
The event takes place on Zoom and it can be watched via this link. Questions may be asked directly on the comment field.
Aaron Heino: Off Topic 2.6.–12.12.2021

Off Topic highlights new work by Aaron Heino, winner of the 2019 Fine Arts Academy of Finland Prize. Revisiting the visual vocabulary of Pop Art, Heino's dynamic sculptures play with tensions between masculinity and femininity, combining classical materials such as marble and granite with intriguing fusions of steel, fibreglass, and painted aluminium.


Hesselholdt & Mejlvang: The White Exhibition 2.6.–29.8.2021

Hesselholdt & Mejlvang is a collective formed by the Danish artists Sofie Hesselholdt and Vibeke Mejlvang, who draw our attention to ideologies and their symbols. The White Exhibition looks into the topic of whiteness which, according to the artists, is not neutral but a system we are all part of. Their exhibition at EMMA consists of a new installation activated through daily live performances.
The performance will be staged during the opening day from 1 pm to 6:30 pm.
About EMMA – Espoo Museum of Modern Art
EMMA – Espoon modernin taiteen museon kokoelma- ja näyttelytoiminta profiloituu kotimaiseen ja kansainväliseen modernismiin, nykytaiteeseen sekä designiin. EMMA sijaitsee Espoon Tapiolassa, professori Aarno Ruusuvuoren suunnittelemassa betoniarkkitehtuuria edustavassa Näyttelykeskus WeeGeessä. Näyttelytilat ovat pinta-alaltaan Suomen suurimmat, ja pelkistetty moderni arkkitehtuuri tukee EMMAn, Saastamoisen säätiön ja Tapio Wirkkala Rut Bryk Säätiön kokoelmien sekä vaihtuvien näyttelyiden kokemuksellista esittämistä. Tervetuloa!
@emmamuseum