The Nest by Japanese contemporary artist Tadashi Kawamata is Amos Rex's open-air exhibition for summer 2022
The Nest is a site-specific installation constructed from reclaimed materials resting on the roof and chimney of Lasipalatsi. The work is part of the artist's continued work with adding layers and structures to natural and urban spaces around the world. The outdoor exhibition opens on 7 May and runs until 4 September 2022 in Lasipalatsi square, in Helsinki. Tadashi Kawamata is available for on-site interviews in Helsinki on 2–6 May.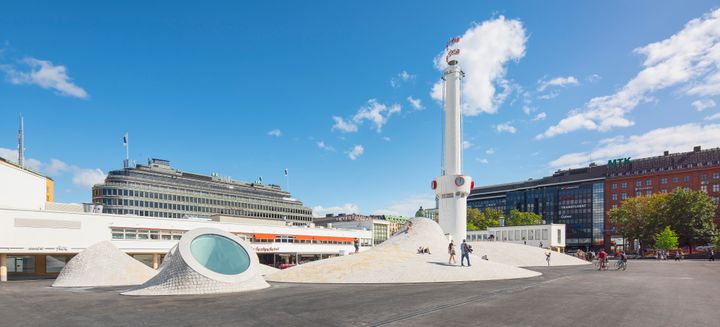 Internationally acclaimed Japanese artist Tadashi Kawamata (b. 1953) has created a body of work centred around site-specificity, found materials and physical action. For Amos Rex, the artist has built a nest – the most primal of shelters – from disused wooden objects and furniture from local homes collected by the Helsinki Metropolitan Area Reuse Centre. The use of reclaimed materials and objects local to the site, is part of Kawamata's research into the history of the site and its residents.
Attaching itself like a parasite unto the iconic Lasipalatsi (Glass Palace), The Nest draws energy from the clean, white-washed exterior of the 1930s building. Lasipalatsi did not always have a protected status, and it is partially thanks to the persistent opposition by the residents of Helsinki to its planned demolition that the building still stands today. Through subtle and contrasting gestures as well as a play with material and scale, the artist disturbs the architectural space while urging viewers to question their environment and consider the socioeconomic aspects of construction and demolition in the urban space: what is considered valuable and why?
"As a shape a nest is very organic and natural against rigid urban space. The Nest is very familiar but attaches itself unto a strange landscape, a strange place.", explains Tadashi Kawamata.
Tadashi Kawamata's work with reclaimed materials and the urban space are part of an extended artistic process that follows an ongoing cycle of constructing-deconstructing that he describes as having "no ending, only process".
"My work is a circulation of building up, taking down, and starting again. It is like it´s only one project I have been continuing for almost forty years, never finishing and never complete."
In late April, passers-by will be able to follow the construction of Tadashi Kawamata's The Nest as it gradually takes shape in the Lasipalatsi square and on the roof of Bio Rex cinema. The Nest is on view from 7 May to 4 September when it will be dismantled. The material will continue its lifecycle.
The exhibition is curated by Itha O'Neill, senior curator at Amos Rex.
Concurrently showing at Amos Rex is the extensive group exhibition Subterranean (2 April – 22 August 2022) spanning across painting, sculpture, video and installation art. Bringing together contemporary and historic art works, the exhibition explores subterranean worlds through different themes.

---


Tadashi Kawamata is available for on-site interviews in Helsinki on 2–6 May. By appointment only.
Press inquiries & interview appointments:
Hanni Vakkilainen
hanni.vakkilainen@amosrex.fi
tel. +358 (0) 40 557 5344
Photos for media:
media.amosrex.fi