VAMK achieved a new record in the number of primary applicants
Once again, the results of the first national joint application for the degree programmes taught in English foresee a tremendous growth in the number of applicants. VAMK increased the number of primary applicants by 250 %, compared to 2022 results. The total number of applicants for VAMK was over 8500.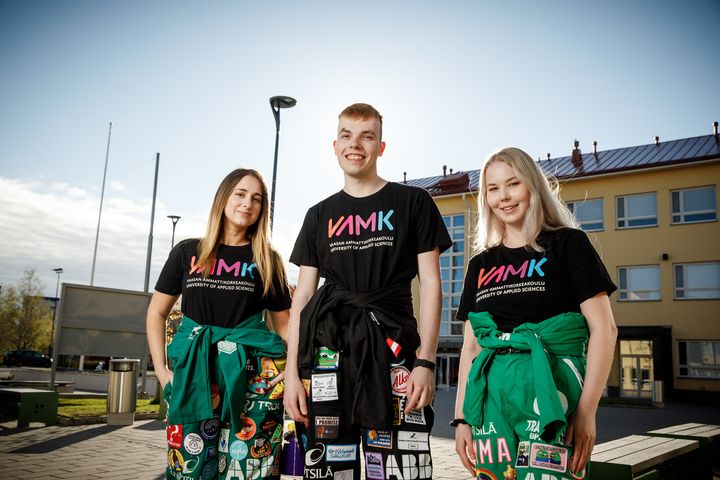 In total, according to the preliminary data, there were 63 500 applicants to Finnish higher education institutions' English-taught degree programmes and art study programmes in the national joint application. Furthermore, the number of applications received for VAMK tripled compared to year 2022.
International Business continues to attract the international applicants
In this application round VAMK offered two bachelor level degree programmes. The most attractive degree programme was the bachelor's degree in International Business. This programme received almost 4 500 applications from which 14 % were primary applications.
There were also three different degree programs leading to a master level degree, which received a total of 1 800 applications. The most popular of these was International Business Management, where approximately 750 applications were submitted. From these 30 % were primary applications.
High School visits in target markets have paid off
In general, VAMK's applicants represented a great variety of different nationalities. The most attractive geographic recruitment countries for VAMK include nations like e.g. Sri Lanka, India and Vietnam, having large numbers of youth in college age. But also a significant rise could be seen in the amount of prospective students i.e. from United Arab Emirates, Kenya, Tanzania and Ghana.
"Our strategy in international student recruitment aims at diversification. This helps us to balance and manage risk, and to improve the student experience in the process. For 2023 August intake, our focus in marketing has been in Asian countries such as India and Vietnam and in Middle East in countries like UAE, Lebanon and Jordan. Especially in the UAE and India we have invested in high school visits – this has clearly paid off", comments Sirpa Rutanen, Head of Communications and Marketing.
"Student selections are made, during spring, through an entrance exam for the bachelor degree courses and with varying selection methods for higher university degrees. The studies start in autumn 2023", says Juha Vierola, Head of VAMK's student services.
About Vaasan ammattikorkeakoulu VAMK

Vaasan ammattikorkeakoulu VAMK
Wolffintie 30
65200 VAASA
0207 663 300, info@vamk.fi
http://www.vamk.fi
VAMK is a modern and international University of Applied Sciences situated in Vaasa. Western Finland. We provide high-level theoretical and practical oriented education in Finnish and in English, both at Bachelor level as well as professional Master´s degree level.
VAMK has over 3500 students and out of them around 350 are international degree students. More than 45 different nationalities are represented at VAMK. 
Our university is located in the heart of Vaasa, which has more energy technology related companies than any other city in the Nordic countries. In our region, more than 160 companies work in the field of energy technology, and about 25 % of the employees of the Finnish energy sector work here. The overall turnover of these companies is about 5 billion euros annually, and therefore it is well justified to say that Vaasa keeps the wheels of Finland's economy rolling!