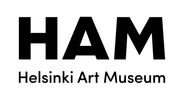 Anni Puolakka: Emo, Works from years 2018−2023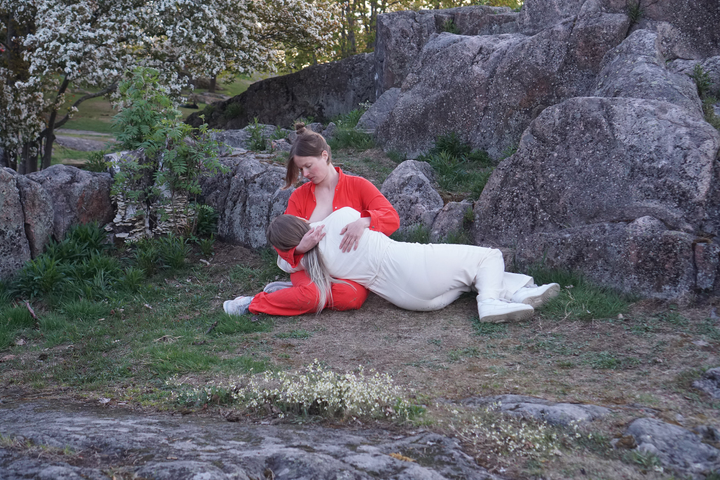 Anni Puolakka's exhibition Emo features works from 2018 to 2023, incorporating video, performance and painting. In these scenes, characters and events − shapes and lines − take on their own surreal dynamics. Life unfolds without a predetermined agenda.
One of the most recent works in the exhibition, Milk Park, 2022 features a hilly park in Helsinki. The park was designed by Maj-Lis Rosenbröijer in 1961 and was originally nameless. Local people called it Flower Park. The city named the garden Lenin Park in 1970, when one hundred years had passed since the birth of the dictator. These days citizens argue about the park's name. Some would keep it as a document of history – of former admiration for Lenin in Finland. Others would change it. One summer evening in 2022, for one hour, the garden's name was Milk Park, and a new, living statue appeared there.
The exhibition features collaborative works with Viktor Timofeev and Marta Trektere. Curatorial advisor of the exhibition: Helen Kaplinsky.
Puolakka is a Helsinki-based artist using various media. Their works play with the boundaries and potential of humans as they seek meaningful involvement with other beings and materials. Puolakka's works have recently been shown at ARS22 exhibition at Kiasma (Helsinki), Eye Film Museum (Amsterdam) and Baltic Triennial 14 (Vilnius).
Anni Puolakka: Emo, Works from years 2018−2023, HAM gallery ​8.3.−16.4.2023
Press images Password: hammedia
More information:
Curator Heli Harni, HAM, +358 40 334 6071, heli.harni(at)hamhelsinki.fi (On vacation from 4th of March until 12th of March)
Curator Sanna Tuulikangas, +358 40 178 3537, sanna.tuulikangas(at)hamhelsinki.fi
We will not be holding a press conference. Interviews by the media:
Communications Planner Reetta Haarajoki, +358 40 168 3669, reetta.haarajoki(at)hamhelsinki.fi,
HAM gallery
Tennis Palace / Eteläinen Rautatiekatu 8, 00100 Helsinki
Open: Tue 10-17.30, Wed-Sun 11.30-19, Mondays closed
Always free admission to HAM gallery.
Images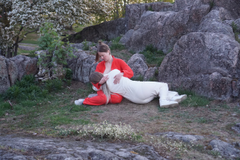 About HAM Helsingin taidemuseo